Deploy Life-Saving Devices
Build better 'intelligent' machine-to-machine systems
Developing safe and effective medical devices requires a rigorous validation process that can be very time-consuming and costly without automation. Additionally, teams must comply with IEC 62304, transforming both their teams and development processes.
To shorten certification time and increase time-to-market, many medical organizations reuse or leverage external libraries, and code that is "proven in use" – to shorten their development time and reduce cost. However, this typical software of unknown pedigree (SOUP) must still be considered in the overall evaluation of the safety and effectiveness of the device.
GrammaTech CodeSonar's medical solution supports this process by providing a deeper, more thorough analysis of the complete system using static analysis of both written (or re-used) source as well as 3rd-party binaries, unlocking hidden defects, speeding up the certification process, and reducing your business liabilities through real-time visibility into your code quality.
Empower your teams to deliver the best intelligent medical devices on the market, without the liability.
CodeSonar helps you comply with medical coding standards:
IEC 61508
IEC 62304
FDA Validation Guidance
Mitre's CWE
Build Security In (BSI)
U.S. CERT
Learn more »
A New Frontier for Medical Devices
The medical device market is evolving very quickly and in many dimensions – new technologies now connect hospitals and clinics with remote patients and devices, wearable devices now proliferate the marketplace, more robotics are being used for high-precision procedures, and data/diagnostics are being compiled through big data, making the industry more vulnerable to hackers than ever before.
Organizations that invest upfront and understand the complexities of the evolving medical market can put together a winning strategy to succeed in the medical device marketplace.
Join other organizations who rely on GrammaTech for assuring safety and security in medical devices: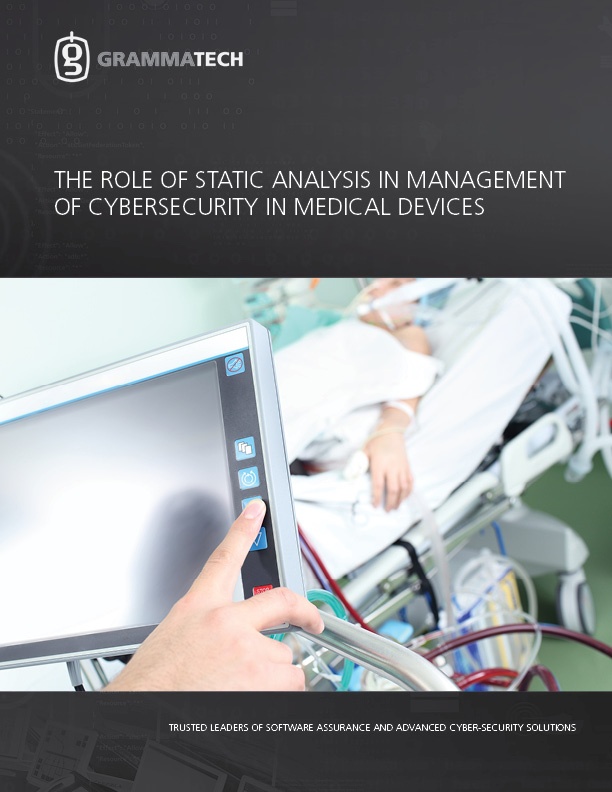 The Role of Static Analysis in Management of Cybersecurity in Medical Devices
Recognizing the need for more robust security in medical devices, the FDA issued its guidance on managing cybersecurity in 2014. But the growth of wireless, networked, and internet-connected devices means that medical devices are more at risk than ever before. The issues of patient safety and privacy also put medical devices in a category of their own.
This paper describes how static analysis plays a key role in risk management of medical device software development.