Security Analysis
Our SAST technology finds critical software vulnerabilities for maximum application security by analyzing all of your code – including third-party, open source, and internally developed code.


Code Quality
CodeSonar's static analysis engine finds 5 times more defects than other static analysis tools, ranging from resource, memory, concurrency, and API-misuse defects.


Compliance
We help teams develop application security software that complies with industry regulatory standards, helping teams efficiently certify and ship in all markets.


CodeSonar
 
The most powerful software assurance SAST solution on the market today, CodeSonar pinpoints the most critical bugs. It analyzes potentially dangerous dataflows and can integrate your own checkers.
Application Security Analysis
Only 15% of today's development teams analyze all of their critical code, leaving 70% of all IoT devices vulnerable to security breaches. Use CodeSonar to find security, compliance, and harmful coding bugs left behind.
Binary Analysis
 
Today's applications leverage 3rd-party code to accelerate time-to-market. But at what risk? GrammaTech's binary analysis detects critical vulnerabilities in 3rd-party applications and linked libraries without their source code.
GrammaTech EVE
 
The Echo Verification Engine (EVE) is at the heart of CodeSonar and our other static analysis technologies, providing the deepest static analysis in the market and finding 5 times more defects than all other tools.
A Four-Step Guide to Security Assurance
for IoT Devices
Powered by the forces of the cloud, connected endpoints, wireless technologies, and big data, the Internet of Things (IoT) and Machine-to-Machine (M2M) evolutions are forming a "perfect storm" for software engineering teams.
So how do device software processes evolve to better protect our next-generation IoT devices? This paper describes a four-step plan that includes next-generation software assurance and a "security-first" methodology.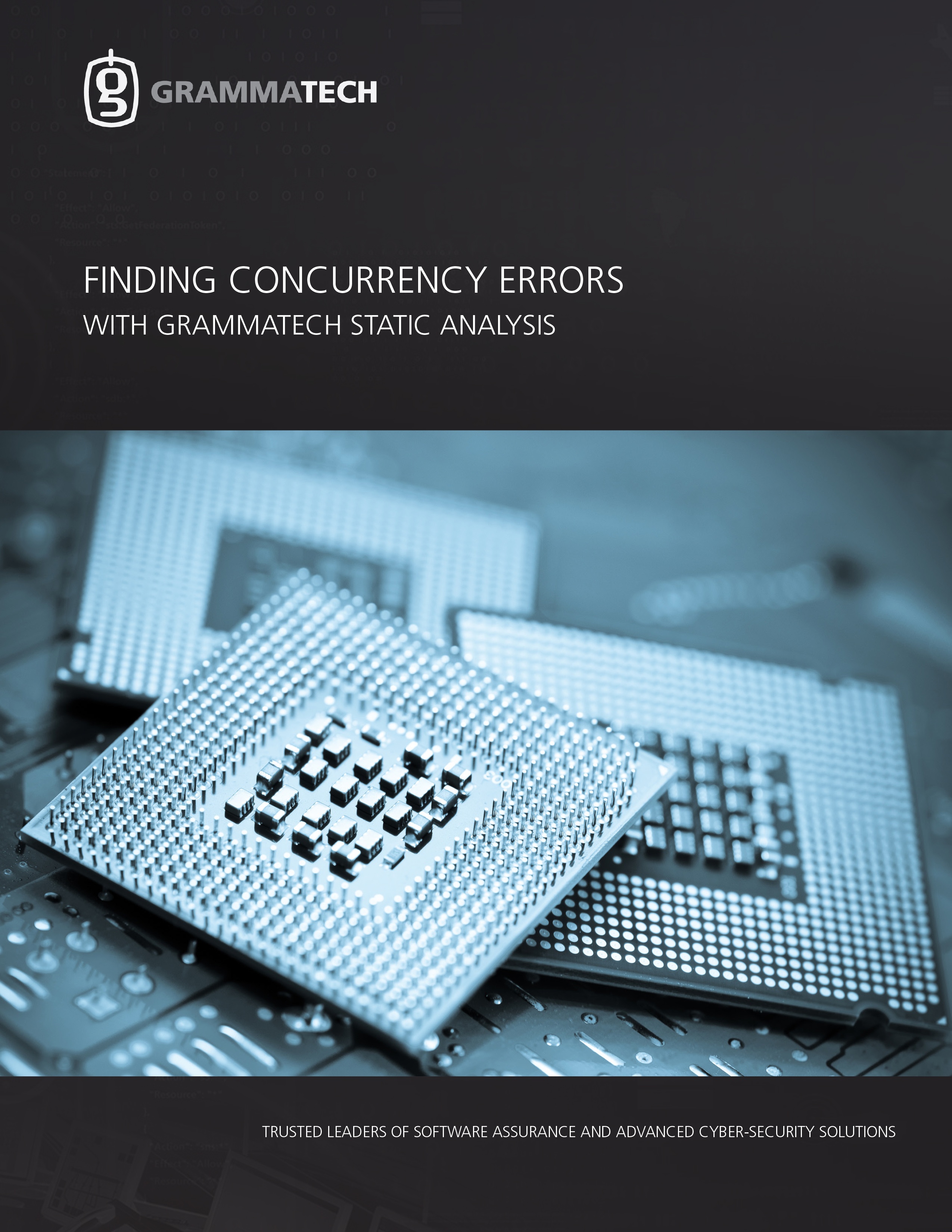 Finding Concurrency Errors
with GrammaTech Static Analysis
Although decades of advances in miniaturization have yielded enormous performance gains for single processors, it now appears that this era is coming to a close. The industry has placed a big bet on future single-chip performance gains coming from increasing core counts, but this will only be a winning wager if software can be programmed to take advantage of parallel processors.
This paper describes common concurrency pitfalls and explains how static analysis with CodeSonar can help find such defects without executing the program.
Eliminating Vulnerabilities in Third-Party Code
with Binary Analysis
Over the last few years, third-party code has moved from a minor factor in software development to a dominant force in the industry. As a result of this outsourcing, the behaviors of significant parts of applications are actually hidden from most of today's popular code analysis tools.
GrammaTech's CodeSonar, on the other hand, uses binary analysis to examine third-party code without access to its source code. This paper describes how to use binary analysis to inspect your third-party code for security vulnerabilities and other errors.